THE PAILLOTE,
FRIENDLY CATERING IN THE HEART OF NATURE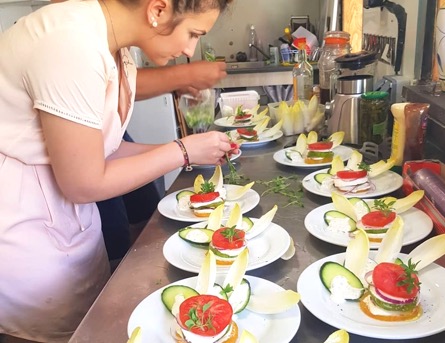 A gourmet and convivial break

To delight your taste buds, La Paillote offers generous gourmet cuisine. We're open every day of the week, from June to September.
Set in unspoilt countryside, you can enjoy a drink, a snack or a meal made with fresh produce, all to the sound of music!
With its shady, misty terrace, La Paillote invites you to enjoy home cooking in a festive, family atmosphere.
Private use of the site for your events
Enjoy a quiet meal in the heart of Provence!
For group meals (weddings, seminars, works councils…),
La Paillote can organize events for up to 80 people.
For a personalized quote, please contact us.
The Map

Sandwich jambon cru-chèvre
Salade fraîcheur
Composée de salade verte, tomates, oignons, champignons, poivrons, poulet, parmesan.
Sandwich Chipo
Composé de chipolatas, frites, salade, tomate, oignon.
Sandwich Merguez
Pain composé de merguez, frites, salade, tomate, oignon.
Sandwich Américain
Composé de steak haché, frites, salade, tomate, oignon.
Tarte du jour
Assiette composée d'une part de tarte salée, salade verte, tomate, oignon.